E-commerce growth in times of pandemic – 2022-2020 statistics and trends
Since the COVID-19 outbreak broke out, e-commerce growth was inevitable. The global pandemic triggered the e-commerce surge that reshaped conservative shopping habits. Thanks to large stay-at-home orders and fears about the virus, the pandemic spurred the adoption of e-commerce by consumers and companies almost overnight. As a result, customers everywhere have relied significantly on e-commerce to buy anything from necessities to holiday presents. This e-commerce boom grew the attention of multiple offline business owners to the potential prospects for online expansion.
Amazon is a prime example of e-commerce growth
The biggest winner of all was Amazon. The founder of Amazon, Jeff Bezos, became the first businessman to reach the $200 billion mark. No one has ever reached this type of wealth in humankind's history. Along with e-commerce growth, all the eyes were on Amazon's success.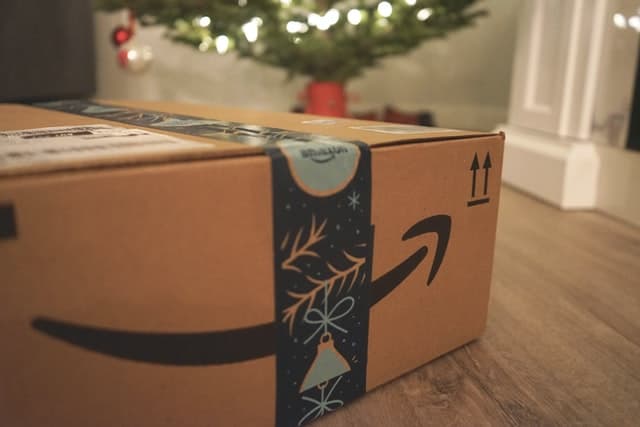 In 2020 alone, Amazon's revenue jumped up to 38%. It means that they had $386 billion in revenue. Net profit for Amazon was up 84% on the year-over-year analysis. However, the success of Amazon during the pandemic is no surprise. As Fortune Magazine named their article about the breathtaking success of the company:
Amazon was built for the pandemic – and will likely emerge from it stronger than ever
E-commerce evolution was imminent for Amazon. They have evolved with time and made online shopping better, especially for people at home. Amazon Prime was the biggest winner. Delivering products in 24 hours was a game-changer. Unlike other e-commerce companies that tried to copycat the success moves, Amazon delivered unique features in product range and shipping services. While many pondered if e-commerce is growing, Amazon did not hesitate to reach 1 million employees around the globe. The online retail titan added more than 400 000 jobs in 2020 only.
Global pandemic as a catalyst for the increase in online shopping
But Amazon is not a single representative of the industry doing well during the pandemic. Mercado Libre likewise had a successful year. Similar e-commerce companies in Latin America, the UK, and Europe all reported a big jump in digital transactions; as well as affiliate advertisers.
What was the reasoning behind such an e-commerce boom?
Fear and depression.
For it is typical to purchase goods during periods of disaster. Many people who had enough supplies in the early days of the pandemic still bought goods on what they thought was the last day before the pandemic hit. They felt that stores would stop working, and it would be a lot harder to stay alive without an internet connection and fuel for cars. Fast-forward and the same individuals found themselves having several months of food in their houses.
Albeit, a habit requires only 30 days to ingress into your daily life. Since the world was locked down, people got used to buying online. Anyone could order and get product service at their doorstep in a few hours with just a few clicks.
E-commerce growth along with crypto
Buying online means paying online. Soon after the pandemic, many cryptocurrencies saw soaring figures. As people started shopping online with rising confidence, crypto investments readily followed.
Numerous businesses created their first online shops with cryptocurrency payments integration to adapt to the new world. The universal shifting to online shopping pushed companies to explore more ways to connect with potential customers. Pages spurting on Facebook, Instagram, and other social networks quickly accelerated the growth rate of e-commerce services seen in the past. Consequently, this started a new chapter in the history of the retail industry.
Global e-commerce statistics and projections for 2022
The e-commerce industry has exponentially grown every year since its dawn of it. 2020, however, was an extraordinary period for e-commerce. The pandemic and lockdowns played a significant role in popularizing online retail.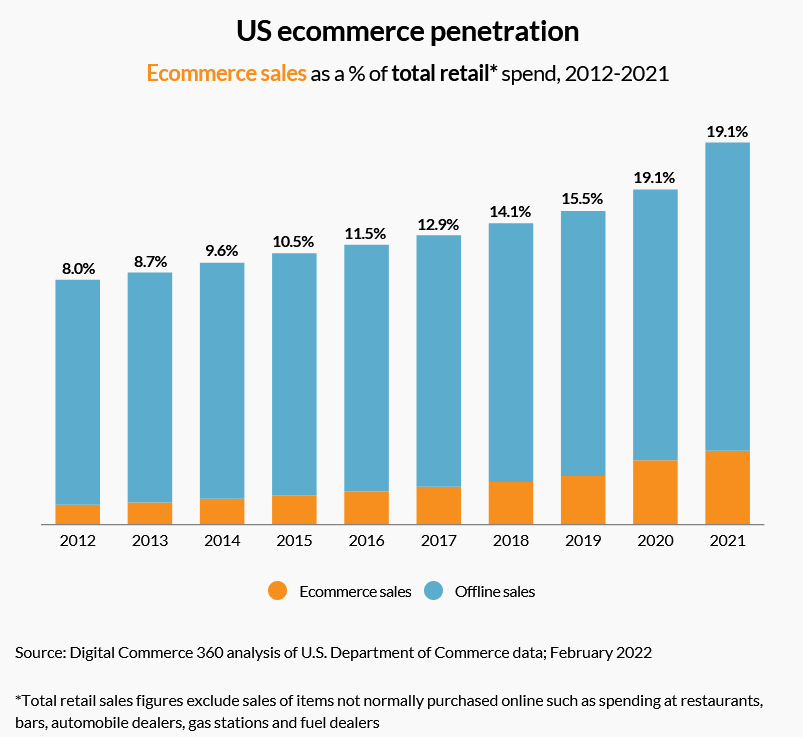 Transition to online stores is now a necessity for offline businesses rather than an option. According to eMarketer, the global e-commerce share of retail sales will hit 20.3% by the end of 2022. That confirms the massive change in consumer behavior depicted by the gigantic leap in e-commerce growth for 2020. Despite that, comparing year-over-year analyses of 2020 and 2021 represents a steady deceleration, foreseen to cap at 12.2% e-commerce growth for the current year.
People at home continue to order from online stores, but the gradual relaxation of coronavirus measures appears on the scene. Yet, analysts credit a whopping increase in the e-commerce markets; albeit at a slower rate over this and the consecutive years.
What did e-commerce services look like in 2020 and 2021?
Retail and online stores saw a robust demand in Q4 of 2021 based on the optimistic attitude of potential consumers towards online spending. A year after the pandemic onset, people still made a lot of impulsive purchases, anxious about goods running out.
Brands saw a decreasing customer loyalty in this, as consumers become unconditional in their desire to satisfy needs at once. They seized chasing after brand items for the name of it. Instead, they were seemingly open to trying out new stores and trademarks, if a new hot deal was on. A year ago, the ideal strategy for online business survival was to have a flexible infrastructure and management team. Retailers had to adapt to changing trends and unexpected events on a weekly or often even minute-by-minute basis. Those fluctuations and volatile disturbances in the market lasted from 2020 to 2021 included.
Still, although with certain drawbacks at the expense of the retailers, the market has witnessed an increase in both regular and holiday shopping compared to previous years. A market analysis showed that holiday spending in 2020 Q4 marked an 8% increase for November alone. Furthermore, a breakdown of funding acquired by e-commerce companies worldwide in 2021 Q2 totaled US$16.8 billion. That makes a five-time increase as to the same period in the prior year. Revelations like this make it apparent that e-commerce companies unlocked hidden opportunities for a bright future of growth and challenges ahead.
2022-2020 e-commerce in a nutshell
COVID-19 undoubtedly impacted shopping figures, while simultaneously posing new challenges. Yet, retail has proved itself to be a resilient sector. Even though 2020 was a pivotal year, companies managed to adapt to the changes, climb on the bandwagon and magnify their developments, hence earnings. As a result, e-commerce marketers hit a record-breaker for online sales in 2020 with a promising rise, albeit gradually declining, in purchasing trends for 2022 and beyond.