Omicron vs. Delta – the difference in infection rate and cases of severe symptoms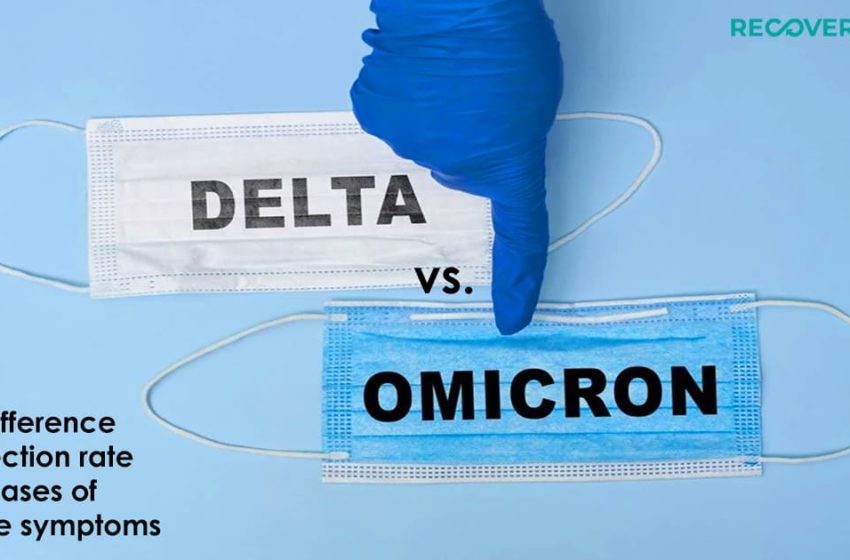 The unprecedented rate and severity of the COVID-19 crisis have left a far-reaching and long-term impact on the healthcare system. While this novel virus and its delta variant continue to spread its destruction, there was the emergence of another COVID variant called omicron. Due to a great inrush of COVID-19 patients in hospitals and other healthcare centers across the globe, health experts may face a terrible winter. At this critical juncture, many people contracting the virus are wondering whether it is a common cold, influenza, omicron, or the delta variant. Health experts are hurrying to explore the differences as the omicron cases soar across the world. So let's delve into the details of the differences between omicron and delta virus.
Omicron vs. Delta Comparison
While exploring the key differences between the two COVID variants including the omicron and delta variant, it is essential to establish certain facts in mind. Whether we discuss omicron or delta, it is essentially the same SARS-CoV-2 virus. It implies that certain symptoms may become more noticeable in one variant as compared to the other. Therefore, according to the CDC, the symptoms of both these variants might be more or less similar to each other.
Common transmissibility treats for both variants
To further elaborate, the Centers for Disease Control and Prevention (CDC) says that people infected with COVID-19 may show an eclectic variety of signs and symptoms. They may range from mild to acute illnesses. Some of the most common symptoms of COVID-19 include:
Fever and chills;
Cough;
Breathlessness and difficulty in breathing;
Fatigue;
Frequent body and muscle aches, or severe headaches;
Loss of smell and taste;
Congestion and runny nose;
Nauseating feeling or vomiting;
Diarrhea.
How do the 2 coronavirus subsets compare?
Although there is officially no guidance or substantial evidence regarding particular symptoms being more prevalent and noticeable in specific variants. However, there are new anecdotal reports on symptoms of both variants.
According to Tim Spector, a leading genetic epidemiologist, who assists in leading the ZOE COVID Study, there are severe headaches associated with the Delta variant. Whereas, there are lesser reports of other symptoms including fever, nausea, cough, and loss of smell.
In contrast, Omicron is showing more cold-like symptoms among the infected patients in both suspected and confirmed cases. According to the ZOE COVID Study, symptoms of the omicron variant include headache, runny nose, sneezing, fatigue, and sore throat. Unlike the delta variant, omicron showed fewer symptoms of cough, fever, or loss of smell or taste.
Like the ZOE COVID Study, various other researchers also could not conclude any stark contrasts between the variants. Hence, getting a test might be the only way to ensure whether or not you are infected with COVID-19 and the type of variant.
According to the symptom profile of both variants, there aren't many drastic contrasts between omicron and delta. However, data and research show that omicron is milder than the delta variant in terms of symptoms and infection rate.
The first analysis comes from WHO. According to the analysis, people who contracted omicron had a 20 percent less risk of hospital care and a 40 percent reduced possibility of an overnight stay in hospitals.
Omicron vs. Delta severity
The most substantial evidence regarding the omicron variant being milder and less severe than the delta variant is from a recent study, conducted by the CDC, employing data from the Kaiser Permanente Southern California healthcare system. The study looks at data between the period November 30 2021 till January, 1st, 2022, observing the infection rate and severity of the symptoms among 69, 279 patients.
The CDC director, Rochelle Walensky in her new study revealed a comparative analysis of the severity of infection rates between the omicron and delta variants:
Around 53 percent less risk of symptomatic hospitalization with the omicron variant;
The possibility of ICU admission is 74 percent;
There is 91 percent less danger of death;
To date, zero omicron patients require any mechanical ventilation.
Bottom Line
All in all, there are not many differences between omicron and the delta virus. However, we may deduce from the above debate that omicron is milder than the delta variant. It is also true that the symptoms, severity, transmission, and contraction of both variants might differ from one person to another. Therefore, the precautionary measures for both variants remain constant, for instance, wearing masks, getting vaccines, and implementing social distancing in public places. It is also crucial to receive the booster doses after receiving your primary series of vaccines to stay safe and healthy.