4th Vaccine Shot – should we expect boosters every 6 months?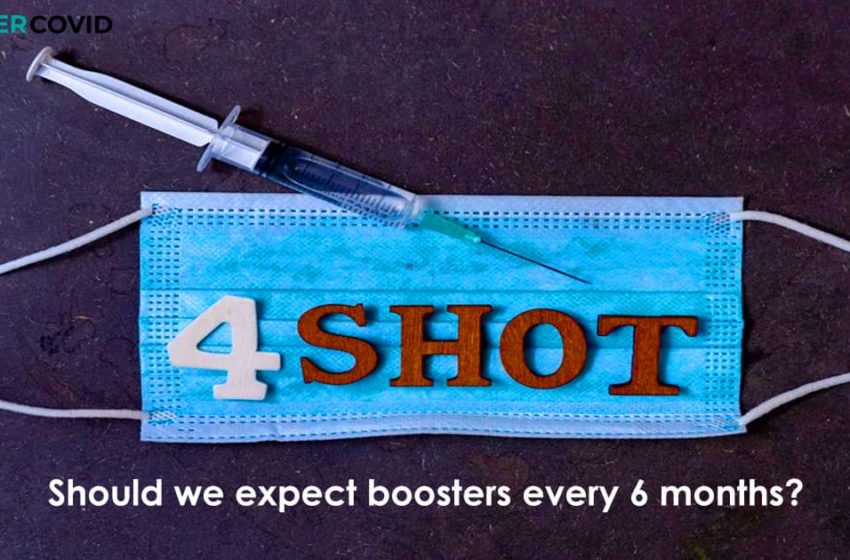 After the wreckage ensued by the novel virus COVID-19, its new variants are already in the air. Omicron is one of those new variants which is driving the upsurge of Coronavirus cases across the globe. Due to the emergence of the new variant, health experts are already pondering over variants and their correlation with the vaccine trial. The administration of the 4th vaccine shot of coronavirus vaccine in Israel has already begun. One might wonder whether it is just the beginning of the medical trials or we may prepare ourselves for vaccinations every six months. 
Medical trials to support the booster dose
According to the health ministry of Israel, the fourth dose of vaccine to people over the age of 60 years in the country increased their resistance to the disease three times more in comparison with people who received three jabs. The basis of this analysis was a trial where 400,000 people in Israel over 60 years received the fourth shot. The health ministry also included in the report another 600,000 people for a third booster. 
Around the same time, another independent research was led by Israel's Sheba Medical Center testing vaccine efficiency against the Omicron. The result found increased antibodies after the fourth dose was not enough to mitigate the transmission of the last SARS-CoV-2 variant. What's more, medical institutes in Germany, South Africa, and the United Kingdom conducted their own investigations.  In addition to this, similar research in Germany, South Africa, and the United Kingdom found that various approved vaccines are not sufficiently effective against the omicron variant according to the reports of Haaretz. 
Is getting a booster shot every 6 months going to be the future?
Scientists are eager to discover and learn more about the novel omicron variant of the coronavirus. These findings will help them know more about its inception and impact on future transmission. However, the question is with the inception of the fourth vaccine dosage, should we prepare ourselves for a booster after every six months from now on?
Well, a short answer to this question would be yes. Yes, we may require additional shots of boosters and vaccines to strengthen our immunization. But how many more, entirely relies on our immune systems, the new variants of the virus, and how frequently they collide. A future focus on annual or biannual vaccinations would be a relief. However, the narrative is not as simple as more is better since even over-vaccinating might have intense downsides. But we never know, with this series of primary boosters and vaccinations, we might find some durable protection. Or perhaps, who knows, it might just be the beginning of the most prevalent vaccine campaign. Either way, vaccination at this point seems critically significant.
Why boosters are needed?
A lot of people wonder why we should opt-out of vaccinations in our already-vaccinated bodies. There are two simple reasons to get vaccinated again as follows:
Due to a considerable decrease in our body defenses, i.e. immune system of our body;

There is a high possibility of successfully fighting off the virus;

Due to the metamorphosis of variants, robust protection from one variant might not necessarily protect us from the other. 
According to Rafi Ahmed, a prominent immunologist at Emory University, antibodies always decrease in the months after infection or vaccinations for any type of pathogen. Since there is a high mutation and development of new variants of COVID-19, protection against these variants is imperative with repeated vaccines and boosters. 
There is a high possibility that post-boost, our bodies may increase the production of antibodies which they did soon after our first vaccinations. Repeated intake of vaccines may also enhance the quality of antibodies which may successfully wipe off COVID-19. According to another immunologist, Deepta Bhattacharya, at the University of Arizona, it implies that we may need fewer vaccines to protect ourselves. If this process develops steadily after the fourth shot, we might be able to get away with vaccine trials much less often than we are now.
COVID-19 vaccine future projections
The key takeaway is that with the 4th wave of vaccine trials we should brace up for subsequent doses. Once the quality of antibodies strengthens, we might not just mitigate the rate of transmission and successfully grow population immunity, but also fend off the virus, its mutants, and new variants. Hence, receiving boosters and vaccinations is crucial for our health and immunity.