How to disinfect houses of covid-19 patients?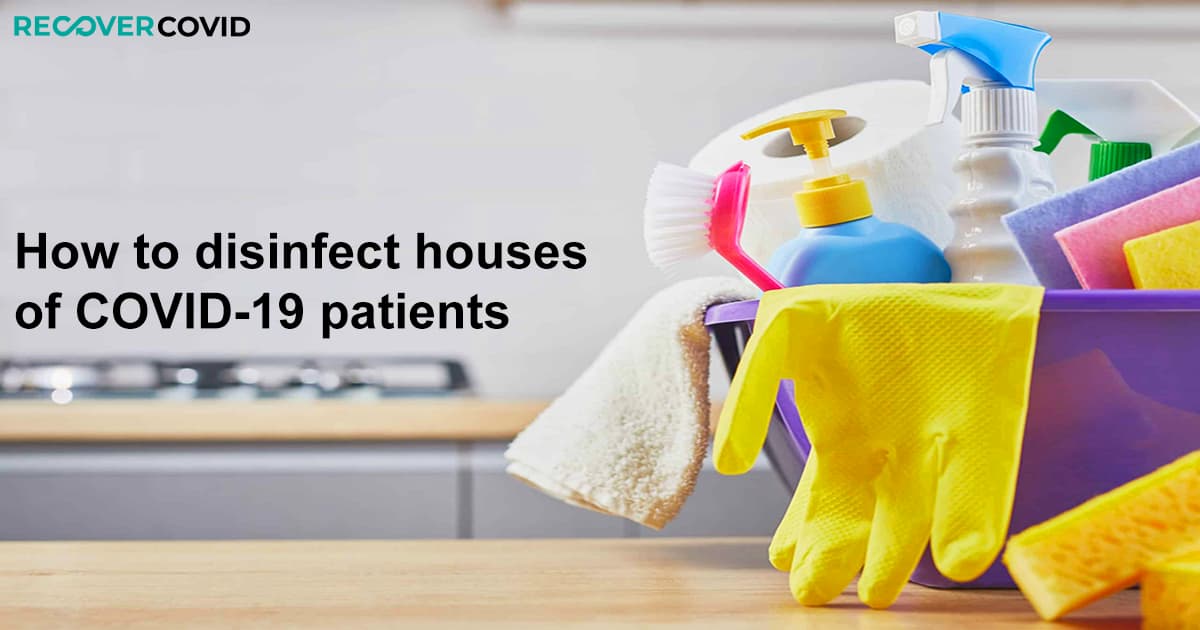 Before disinfecting the house of a covid-19 patient, wear reusable or disposable gloves. Moreover, before using disinfectant, clean the surfaces with soap and water. Cleaning the surface with soap and water will reduce the number of germs and dirt on the surface. In addition, routinely clean surfaces that are frequently touches, for example, sinks, faucets, toilets, phones, desks, handles, countertops, light switches, doorknobs and tables.
How to disinfect?
            Disinfect surfaces using a household disinfectant. Follow instructions on the label to make sure safe and effective use of the product, safely and effectively. Many of the products recommend keeping the surface wet for a period of time. In addition, recommend precautions, for example, wearing gloves and making sure that there is good ventilation when the product is being used.
To ensure safe and effective use:
Read and follow instructions on the label
Wear skin and eye protection for potential splash hazards.
Make sure the room you're disinfecting is adequately ventilated.
Use no more than the recommended amount of disinfectant, as mentioned on the label.
Use room temperature water for diluting the disinfectant, unless stated otherwise.
Avoid mixing two chemical products.
Label the diluted disinfecting solutions.
Store the chemicals out of reach of children and pets.
You should never apply these products directly on to your body. In addition, never eat, drink or breathe these products as they can cause serious harm. Do not wipe or bathe pets with these or any other products that are not approved for animal use.
Special considerations should be made for people with asthma because being around the products can trigger asthma exacerbation.
Diluted household bleach solutions
Unexpired diluted household bleach solutions can be used for disinfection if appropriate for the surface. It is effective against covid-19 if properly diluted.
Use bleach that contains 5.25 to 8.25% sodium hypochlorite. Do not use the bleach if the percentage of sodium hypochlorite is not specified or not in this range.
Follow the manufacturer's instructions and ensure surface contact for at least 1 minute.
Ensure that the room is properly ventilated during and after application of the bleach.
Make sure the product is not expired.
Do not mix household bleach with ammonia or any other types of cleansers. This can produce fumes that may be very dangerous to breathe in.
How to prepare a bleach solution?
A bleach solution can be prepared by mixing 5 tablespoons or 1/3rd cup of 5.25 to 8.25% bleach in a gallon of room temperature water. Or 4 tablespoons of the same percentage of bleach in a quarter of room temperature water. The solutions are effective for disinfection for up to 24 hours. Alcohol solutions with at least 70% of alcohol can also be used.
Disinfecting soft surfaces
For soft surfaces, for example, rugs, carpeted floor and drapes clean the surfaces using appropriate cleaners or soap and water.
If possible, launder the items according to directions on the label. Use the warmest appropriate water on the surfaces and dry the items completely.