6 Important COVID Documents to Bring on Your Next Trip
Since certain places still demand covid documents, such as proof of COVID-19 immunization, you might need to have more health-related information on hand if you're planning to travel in the following months.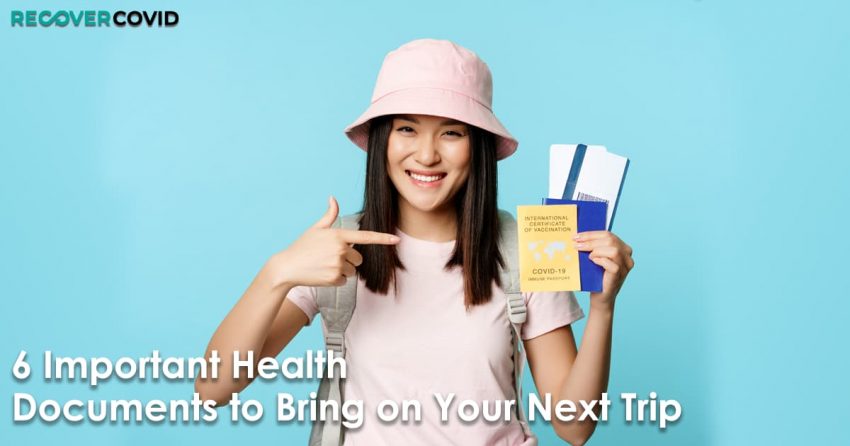 In the event that you get sick or experience any medical emergency while you're away from home, you should also have access to additional health records. It's always preferable to be ready. You want to take full advantage of your vacation when you are actually there.
In the digital age, managing documentation—including insurance information—is made simpler by email, the internet, and mobile apps. Sending yourself and a family member or friend copies of all of your health information through email is a good idea, but you should also carry paper copies just in case you find yourself without internet access.
If Traveling Soon, Keep These 6 Health Documents on Hand
Keep a physical copy as well as a digital copy of this medical information on hand.
Your immunization record for COVID-19
As the recent COVID-19 surge has subsided, regulations requiring proof of vaccination for participation in activities like indoor dining are being quickly abandoned. However, many nations and significant cruise lines still demand documentation or a COVID-19 test result that is negative. Passengers must present their original paper immunization card to Grand Circle Cruise Line and Regent Seven Seas Cruises, at least two cruise lines.
Rules differ, but generally speaking, travelers must have access to the necessary information via a website or app, their paper vaccination card, or a digital version of the card. Digital health passports that create a QR code are available in various U.S. states and other nations as proof. Other applications, such as those provided by Apple, CLEAR, IBM, and SMART, assist users in managing all of their health-related data.
Consider placing your paper card inside a cheap plastic sleeve or case for protection.
Any COVID-19 test results
Travelers from certain nations and cruise lines must have a COVID-19 test result that is negative. No matter your citizenship or immunization history, even the United States mandates it for re-entry.
While displaying an image or email is frequently adequate, it is also advisable to have a print copy as a backup. Anything can go wrong with electronics, so take the time to print them on paper.
Additional vaccination documentation
Traveling Americans may want to carry the yellow paper card listing the immunizations they have received, such as those for hepatitis, typhoid, or yellow fever, that are advised in other regions of the world.
The Centers for Disease Control and Prevention (CDC) website's "Destinations" page lists recommended immunizations and health advisories by countries.
While you often don't need to provide official confirmation of those immunizations, certain countries need it for specific diseases.
Tanzania, for instance, demands documentation of a yellow fever vaccination. Keep in mind that there is no digital version of the yellow fever card, so you would want to keep it safe.
A list of your prescribed drugs and copies of them
Keep a paper or digital list on hand with the names and dosages of all your prescription prescriptions. If you have a medical emergency, a doctor will probably inquire about this as one of the first things. Likewise, bring duplicates of your prescriptions in case you misplace or run out of your medication. Additionally, you can store the data on a wearable device or the lock screen of your phone.
A list of any allergies you have
Carry a list of any allergies or ongoing medical conditions that a doctor might need to know about in case of an emergency. Consider putting the information on your phone and making a laminated card to keep in your wallet.
Details about health insurance
You don't need to print the complete policy if you have private insurance or purchase specialized travel insurance, but you should have a copy of your insurance card on hand and be aware of where to obtain the policy online or in an app. Also, you should check with your insurance company in advance as some health insurance plans may not necessarily cover you abroad.
The policy number and your insurer's contact details should be written down and emailed to you. When you're away from home, you can call your insurer's toll-free number to get advice on how to handle a health concern and instructions on how to submit a claim when you get back. Remember to allocate a small amount of money you may need to pay for medication out of pocket, which you will later file a claim for when you return.